What is Modern Tropical Decor?
Recently I read an article at Decoist, Modern Beachy: Modern Tropical Decor on the Rise. I am very eclectic in my arrangements and decorations in my home. Since I've lived in Florida most of my life, I love rustic, coastal elements, but do I love Modern Tropical? What is it?.
Decoist says.
"Modern Tropical… involves clean lines, fresh palettes, and lots of greenery. The look is tranquil and chic. Rather than overloading beachy spaces with seashell collections and rattan furniture, the new feel is all about less-is-more decor. It's simple, breezy, and naturally relaxing."
I certainly like the description of clean lines, lots of greenery, and a tranquil space. I've been wanting to refresh my living room. Being eclectic I'll just add a few touches of the modern tropical style I like.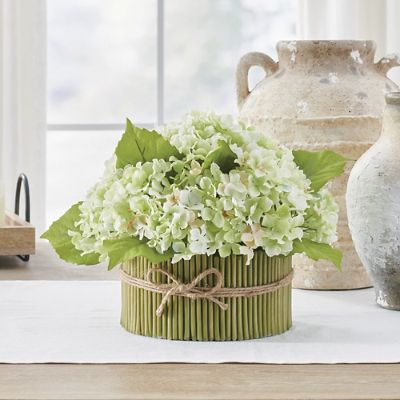 My walls are a neutral shade so I don't have to paint. Currently I am using a white futon as my sofa, but I hope to change that in the winter. I am planning to get a white sofa. I know they are hard to keep clean, but I have no children or pets. I think it will work with my other furniture and almost any style I choose.
Modern tropical style can seamlessly overlap with today's popular Boho look. It reminds me of the 1970's when macrame and hanging vines were really hot decor choices. I've been wanting to add some new textured wall art like macrame for some time. My goal is to create a relaxing space that makes you happy like you're on vacation.
Major Changes?
I am not planning on a major renovation or changes to my home. My wish list that may not ever be done includes replacing the kitchen cabinets, but that is really a dream item. I have always spent my money on basic maintenance and updated items that keep my home safe and hopefully boost the value whenever I decide to move. During the life of my blog, I have had the soffits replaced, replaced the roof, removed carpet and added wood-look tile, replaced sliding doors, and updated my heating/ac system. Dreams include a new kitchen, updated bathroom, and a fantasy addition to turn a small bedroom into a master suite. If my dreams became a reality, I'd need to check out Home loans and mortgage refinancing since I don't have that kind of budget. My fantasy bedroom would have lots of windows to the greenery outside.
Simple Changes
My simple plan is to first shop my home to refresh the living room. I have many different items in various rooms and some in closets and drawers. Changing art or decorations in a room can make a real difference. Second I will keep an eye out for a deal in new lighting and textured wall hangings like macrame. Since my favorite thrift store closed during the pandemic, I rarely go to thrift stores. I do shop the Marketplace on FaceBook and have found several vintage furniture items at a great price. I'll plan to continue that and to also go to a thrift store every other week. Then by the beginning of next year, I will add a new sofa to the mix in the living room.
Another small change is adding a touch of home automation. At Christmas seven months ago, my nephew sent me several items that use Alexa from Amazon. I haven't really used them. To me it's just another way for folks to hack into your life, but I will set them up and try them. Telling a light to turn on or off would be nice.
So that is my simple plan for the living room. By early next year it will look a little different. I'm hoping to keep a welcoming, cozy feel with coastal textures. My goal is a timeless look, not a trendy look.
Thanks for dropping by today. Stay cool!
Thanks for the visit. Get exclusive free printables & all the news straight to your mailbox!
Please see my Link Parties page for the parties where this post was shared.