Love hosting dinner parties? Whether you have a separate room for dining or a designated area in an open space, turn your dining room into a space that will wow guests with some of these amazing features. 
A statement dining table
A dining table provides a place to gather at the end of the day or to celebrate during special occasions and is the centerpiece of a dining room. Make it stand out by choosing a design that's unique and fits your design style. There are some incredible modern dining tables out there made from materials like glass, ceramic and metal, complete with central legs that offer a floating effect. Such dining tables are certain to be a conversation starter. If you love modern farmhouse, look for an antique table or work with a professional woodworker to design your own. There are many styles available so you do your research to find the perfect match for your space.
Large wall art
Large wall art could help to add a burst of color and texture to your wall. Such artwork can be energizing and will help to inspire conversation. This could be a vibrant painting or a blown-up photo on canvas. Hang this in the center of the wall so that it's eye-level when people are sitting down.
Wine bottle holders
Bottle holders can help to hold and display bottles of wine. They can be a great ornamental feature on a dining table or on a cabinet or shelf near a dining table. There are so many designs including wacky bottle holders out there. Whether you prefer traditional designs in wood or one in the shape of everything from chefs to soliders holding a bazooka, they are both practical and a design element. If you love your wine and want to add storage as well as a personal touch to your dining room space, consider adding a wine bottle holder.
Placemats
Another table item that can be serious or playful is placemats. These typically come in sets – you can pull out different sets for different occasions such as snowmen placemats at Christmas or spooky placemats at Halloween. Placemats can be made of all different materials from plastic to wicker. As with bottle holders, you can also look for funny designs.
Multicolored chairs
Who said chairs had to all look identical? Playing around with mismatched chairs can make your dining room space more fun. One option that can be quite dramatic is to buy a set of identical wooden chairs, but paint each one a different color. The chairs will all still be the same style, providing a sense of harmony. However, the different colors will help to spice up the space. To pull off this look effectively, consider keeping the rest of the room neutral – this will draw more attention to the chairs and will ensure that no tones within the room clash. Check out The Kitchen's post, 15 Dining Rooms with Brilliantly Colorful Chairs.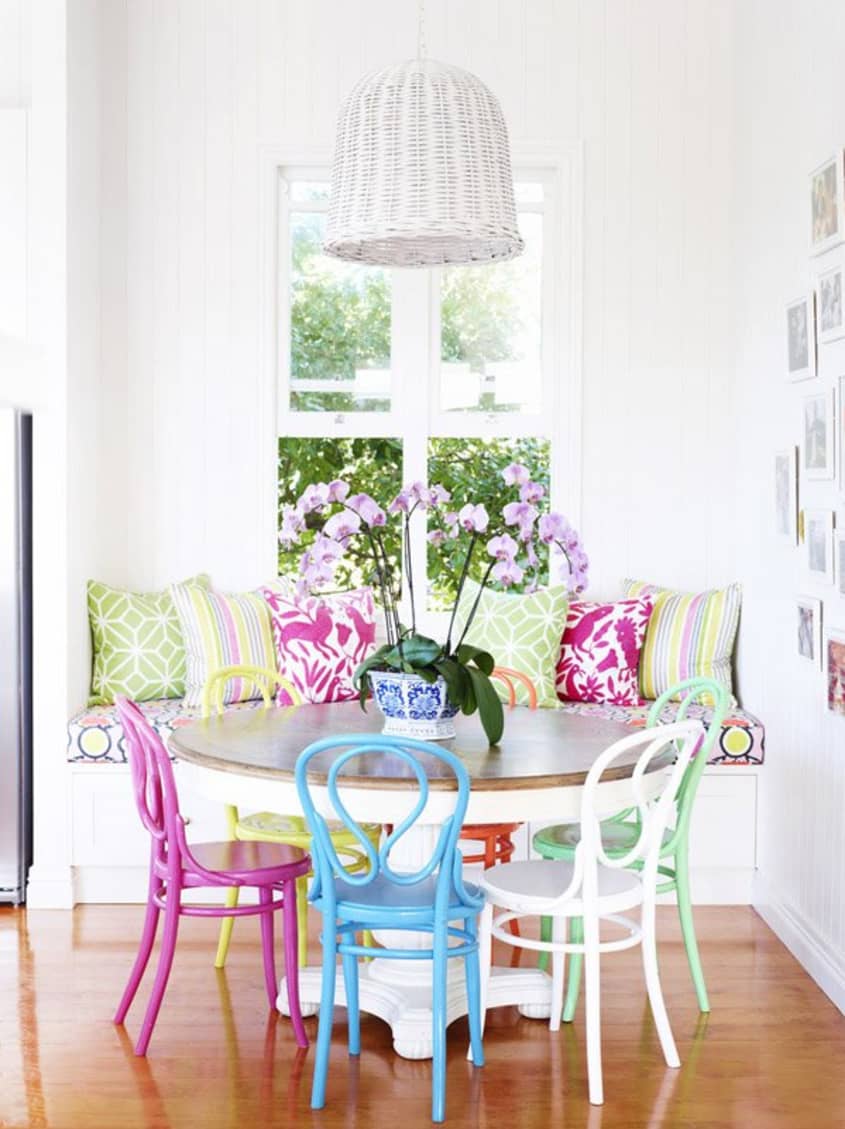 Add a bar
If you've got room in your dining room, you could consider adding a cupboard for storing drinks. If the storage is hidden it could serve as a surprise bar – when guests ask for a drink, you can open the cupboard door and reveal an array of spirits, wines and glasses. Or you could choose another fabulous way to add a bar to your dining experience. Apryl Ann has an interesting post with 15 Stylish Dining Room Bar Ideas.
Lighting
You can dress the table with napkins, cutlery holders and a place setting to impress. Yet a dining table setting just isn't the same without a light at its center.. Low hanging lighting fixtures can help to focus the light on the table. Just make sure that lighting isn't hanging too low as it could cast a shadow on diners' faces and possibly even get in the way of conversation. Lumens has a great post with tips on choosing the right light for your space.
Picking out the right dining area components doesn't have to be complicated, but you do have a lot of options. Choose elements that fit the mood you enjoy – cozy and welcoming farmhouse to dramatic ultra modern industrial. The choices are yours to mix for your perfect room.
This is a collaborative post but all opinions are my own.
Thanks for the visit. Get exclusive free printables & all the news straight to your mailbox!