Living in the same place for a long time can cause things to get a bit dull. No matter how exciting your home was when you first moved in, it's only natural that you start to get used to how things are, and it becomes time to change things up. I've often said that we should shop our own homes.  Just because a wall print or vase has always been in the bedroom, that doesn't mean it wouldn't be a great addition to the  family room.  I usually move my art around seasonally.  You don't have to spend a whole lot of money to make things look better and newer.  Let's look at simple ways you can make your home seem fresh and updated.
Upgrade you bedroom
Why do people spend so little money on their beds? You're there for around eight hours of your day, yet it's somehow so much easier to justify splurging on a newer car than a better mattress. If you have a great bed and mattress, how old are your sheets and bed cover?  I find that a new set of sheets and a new comforter make my bedroom seem more fresh and cozy.  For example, I was tired of my bedspread last year, and I couldn't resist a cute new comforter on special last November. I just love how cheerful it is and feel a difference in the room.  Remember the Black Friday sales are starting all over about now and it will increase all through Christmas.  Give yourself a present.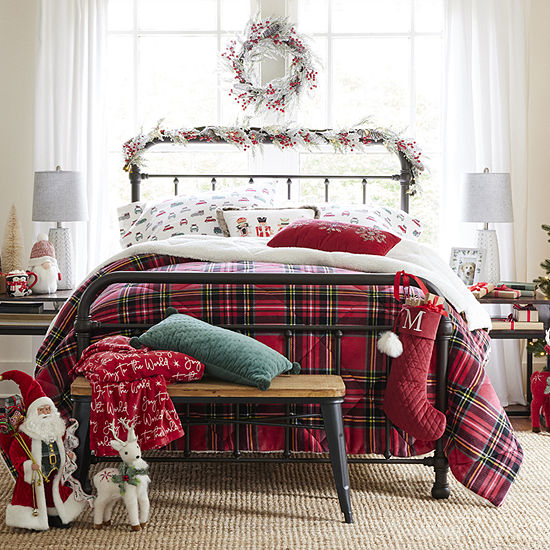 Let some life in
Bringing the outdoors indoors isn't just great for the air (per EPA estimates, you spend 90 percent of your life inside your house). Not only did NASA researchers find that it only takes 24 hours for houseplants to reduce air toxins in your home, they're also great for reducing stress and boosting your mood. Houseplants can live naturally in your home and can thrive if you make sure to water them often enough and ensure that they're getting enough light. They help to add a splash of color to your rooms, and they can also help to keep the air fresh. Most winters I buy a new houseplant that usually lasts a few years.  I'll probably get a new anthurium.  I do love those long lasting "flowers" (spats).   For more information on houseplants, see How to Have Healthy Winter Houseplants.
Try out some more exciting art
If you have visited me before, you know I love beautiful wall art. Art can do so much for the atmosphere, and it completely depends on what kind of art you pick. There are so many different styles to choose from, so many forms, and so many meanings. Not only can it make for a more exciting environment, they can be great conversation starters, and also say a little about your own interests. I find that art helps set a mood in a room. A large canvas like my painting in the living room really dominates the room.
If you love to travel, you might want to consider adding maps to your home. DigsDigs has a great post, 25 Ways to Incorporate Maps into Home Decor . So many wonderful ideas to feed your creativity. For example, have you ever thought of using a Wood Map as art on your wall? I have a friend who loves maps.  Since I met her, she has lived in two homes. Both had a beautiful map on the wall in the living room.
Don't be afraid of vibrant colors
Let me say that a fresh coat of paint is one of the easiest and less inexpensive changes you can make. A lot of people are used to having the same colors on their walls for years and years.  The idea of changing them to something else completely can be pretty daunting.  It's not easy to get used to new colors, and the idea of it can feel wrong no matter what color you pick. That's why it's so important to play with the idea for a while first. If you've had white walls for so long, changing it to something colorful can feel like an extreme difference when you first think of it. However, after some time you might start to enjoy that idea.  The Spruce has a great post, Tips for Choosing Interior Paint Colors, that can help you in the process.
Personally I like neutral walls and add color in accessories. Pieces of furniture and small details can make a huge difference if you start to play around with colors. If your home is usually quite a muted place in terms of color, adding small pieces here and there will stand out immediately. Buy or make a few pillow covers and add them to create a new ambiance in a room.
Make sure it's not too dark
Finally, light can play a huge role in a boring home. If you've been living in the dark, it can be hard to feel enthusiastic when at home. Generally, gloomier environments are linked with negative feelings – which is something you should never have in your home. Creating more opportunities for both natural and artificial light means you won't have to deal with any negativity due to lack of light.  10 Ways To Bring Light Into The Home has great ideas on ways to bring in more light.  Push back the curtains, add mirrors to reflect light, or buy a new lamp.  A new lamp can be just the right touch to change a room.
In conclusion
Finally, shop your home first. Move furniture and accessories around. Buy a new green houseplant. Paint a room. Rethink your bed. Look at your wall art and accessories. Define which area you need to update and choose a simple solution. 
This is a collaborative post but all opinions are my own.
Get exclusive free printables & all the news straight to your mailbox!
[email-subscribers-advanced-form id="1″]
Please see my Link Parties page for the parties where this post was shared.